Technology Life Cycles for Good
The pursuit of convenience, entertainment and utility has become a daily routine for many consumers, and this includes our appetite for electronic gadgets and devices that are almost prosthetic, intellectually and physically. There is no doubt that our desire for the latest electrical and electronic products translates into significant practical benefit and expediency, but this same desire also results in various environmental issues and impacts that we need to acknowledge, understand and address.
Most importantly we need to stay focused on technology for good and how we can produce and consume electronics in a way that designs out waste, pollution and other socio-environmental impacts from the outset.
While e-waste or 'WEEE' often dominates discussion about sustainable electronics, we also need to recognise the energy consumption and emissions associated with powering billions of devices around the world, from smartphones and domestic appliances through to server farms and Internet of Things devices. Not to mention the use of conflict minerals and non-renewable materials often used in the production of electronics.
The electronics industries have done much in recent decades to minimise and ameliorate certain impacts and in some cases, the greening of IT products has achieved noteworthy gains, but the evidence indicates that most strategies are inadequate to deal with the overall level of consumption. As the fastest growing waste stream globally, e-waste recycling is proving an incomplete solution.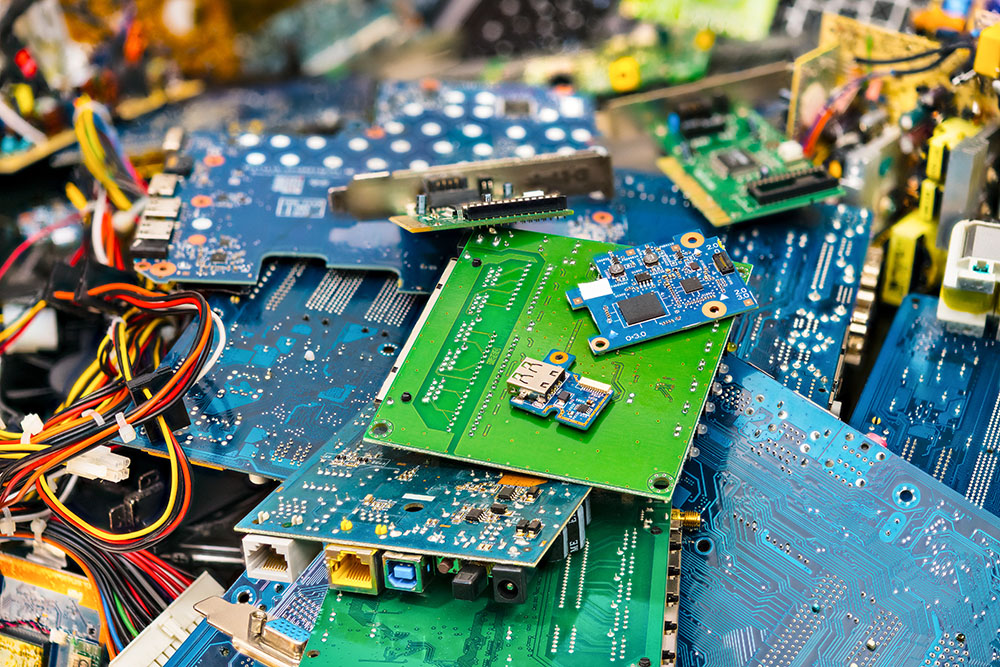 The need to think holistically about how to deal with waste avoidance through alternative business models is proving essential. Efforts to design for maximum energy efficiency must also continue.
What underscores the imperative for eco-innovation and step-change action, is the quantity of ewaste being generated. Figures cited in a recent media release from the Ewaste Watch Institute provide a sense of scale, urgency and opportunity:
"Australians are the fourth highest generators of e-waste per capita in the world generating just over 23.6 kg per inhabitant or 574,000 tonnes per annum. We are also great hoarders of e-waste with more than 25 million mobile phones lying idle in homes.
On average we import around 100,000 tonnes of televisions, computers, printers and computer accessories a year. That is about 35 million pieces of electronic equipment per annum. Plus, we also import at least 9.3 million new mobile phones each year."
The global figures are equally voluminous, with the most recent figures claiming the world generated 44.7 million metric tonnes (Mt) of e-waste in a year with only 20 percent being correctly and safely recycled.
So it becomes obvious that electronics sustainability is a hot spot for increased action and innovation, including how devices are developed to better address circular economy principles. Many brands and OEMs design their products from a life-cycle perspective striving to embed measurable environmental performance into their products. Most however are compliance-oriented adopting minimum requirements to enter markets and drives sales.
Not unlike the growing consumer momentum opposed to plastics pollution or the need for action on climate change, the electronics industries are also being scrutinised with a view to their credentials. The continual flurry of media stories about smart phones 'poisoning' the planet, or the future flood of obsolete solar panels and e-vehicle batteries, provides a clear indication that business-as-usual approaches aren't getting the job done, even when exemplary brands are creating the greenest of phones, appliances and batteries.
Yet these challenges create the perfect stimulus for transformation and smart product development strategies that treat commercial success and environmental responsibility as connected objectives. In other words, a coherent product stewardship approach that views Extended Producer Responsibility (EPR) as a catalyst for compelling corporate social and environmental outcomes that go well glossy annual sustainability reports.
Progressive brands are often long-game players, and therefore understand how important good design can be in attracting and retaining consumers across generations. Indeed the next wave of product stewardship thinking will need to embrace circular design, dematerialisation and product-service business models at scale, and recognise that electronics sustainability is just as much a technical exercise as it is a cultural and behavioural shift in product consumption.
However the essence of electronics stewardship and EPR remains intact i.e. that manufacturers, producers, retailers and brands take greater environmental responsibility for their products across the life-cycle, and well after the consumer has finished with the product. It also requires consumers and other relevant players to play their part and ensure responsible repair, reuse, recycling and disposal of electronics through official programs and schemes.
From design and cleaner production, through to greener supply chains and improved consumer education, it is vital that brands and OEMs work collaboratively with retailers, government, the repair industry, the waste management industry and research institutions to meet consumer expectations.
The opportunities to create clean, energy efficient, waste-free electronics will be integral to achieving a more circular approach to production and consumption. However, we must move beyond 'old school' collection and recycling solutions, and focus on upstream priorities including product design, supply chain greening, low emission logistics, reuse and repair, durability and environmentally driven consumer innovations.
The key to electronics sustainability requires that we embrace the positives that technology can offer, while also fundamentally redesigning products to be regenerative, restorative and waste-free.
Here at Empauer we recognise that companies demand leading-edge sustainability tools to support new product development as well as market success with existing products. The key is to have informed advice and the right tools to maximise sustainability performance across the spectrum.
i Baldé, C.P., Forti V., Gray, V., Kuehr, R., Stegmann,P. : The Global E-waste Monitor – 2017, United Nations University (UNU), International Telecommunication Union (ITU) & International Solid Waste Association (ISWA), Bonn/Geneva/Vienna.
ii MobileMuster Annual Report 2018
iii Review of the Product Stewardship Act 2011, including the National Television and Computer Recycling Scheme Consultation paper March 2018